Posted

1 year, 1 month, 14 days ago

Item viewed 196 times.

Description
Double Dog Leash Two Dogs Leash with Pouch Adjustable Dog Walking Leash for 2 Dogs with Comfort Grip Dual Padded Handles, Training Leash Perfect for Walking Running Hiking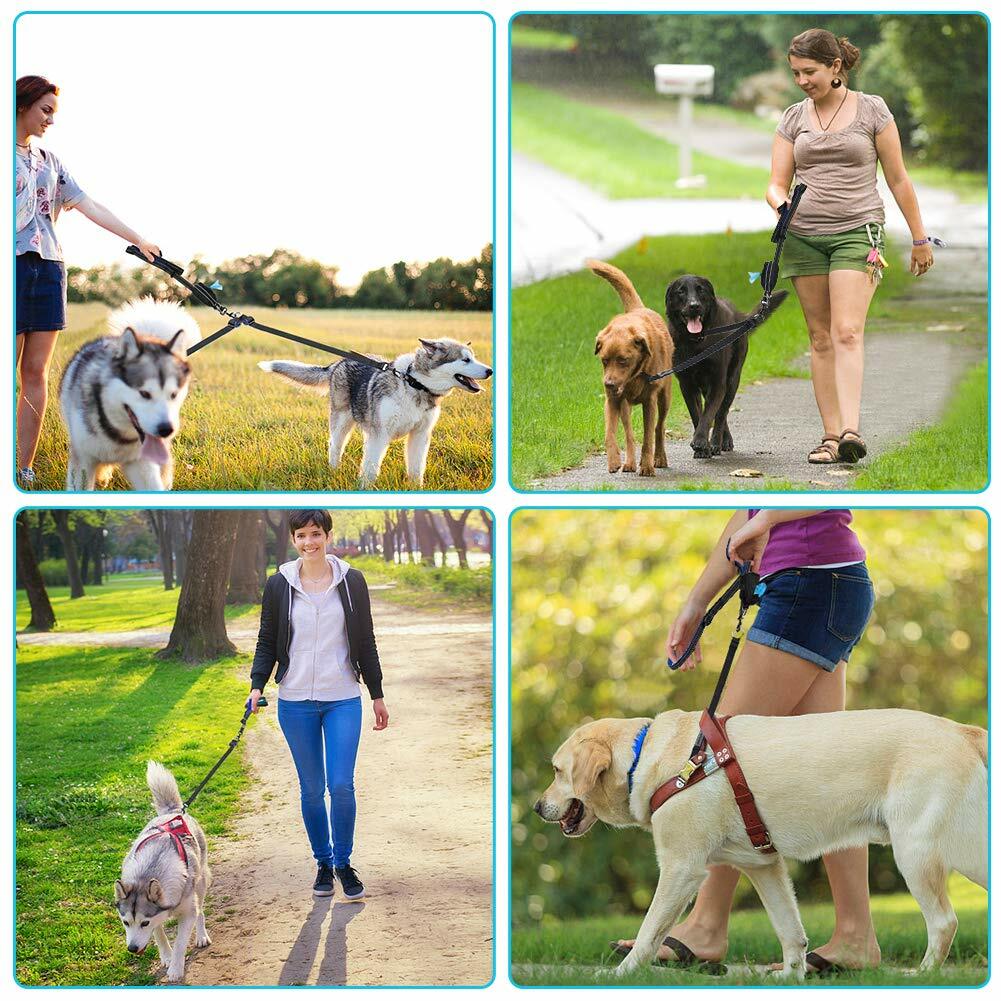 Unique Design - Considering the thoughtful concept, double dog leash is specially designed for those who have 2 dogs. Tangle free. With 360 rotates, the hook is flexible and rotatable, perfectly solving the problem of tangled leash, so that you can get along well with dogs during walking. Reflective stitching across the entire edge provides an extra view when walking at night, more safe and easy to control the dogs.




Best Control for Two Dogs - The leash is fully extended to 6.6 feet in length. Double-padded handle can better control and guide your dogs without hurting your hand. Due to its high quality, it is resistant to the most active or stubborn dog. There is a garbage bag on the leash to facilitate the excrement left by the dog while walking outside. Caring for the environment is everyone's duty.




Adjustable Double Leash - More than one place can adjust the length of leash. The length of the rope can be adjusted well, allowing you and the dog to enjoy more freedom. When the dog is close to you, it prevents the dog's feet from getting caught on the extra belt or hit the pet, giving you and your pet a sense of security.




Heavy Duty - Unlike ordinary two dog leashes, this double leash are made of high-quality neoprene pad cushions that can withstand 180 IB. The dog leash is strong and heavy with perfect sewing from workman, reducing the frictional pain caused by the dog pulling, more comfortable. The bag dispenser attached to the rope with hooks and velcro will not fall off.




Perfect for Walking Dogs - This double dog leash is suitable for all medium to large breeds as well some smaller breeds.



Are You Want to Walking Your Pets Turns Out to Be Enjoyable Experience?
Are You Searching for The Perfect Double Training Leash for Your Dog?
Double Dog Leash is Your Best Choice.
Why Choose 2 Dogs Walking Leash?
Better Control With Dual Built-In Handles
Better control and guide your dog back on track with the one handle that's positioned by your hip.
Adjustable leash Lead
Leash fully extend to 6.6ft in length.
Reflective Stitching for Safe Night Strolls
Reflective stitching throughout of the edge give you extra visibility even during your night walks,keep you and your dog safe.
High Premium Material
Made from safe non-toxic material so the occasional chewing will not be a problem.
Bonus Waste Bag Pouch
Provide you more space for waste bag or keys, cards. Very conveniently for picking up doggy mess on walks.
Walking 2 dogs on 1 leash
Easily Training 2 dogs on 1 leash,enjoy the happy time with your best friends.
Package Includes:
1 x Dog leash for 2 dogs
1 x Waste bag dispenser
https://www.ebay.co.uk/itm/254194119003